"I understand that there is no higher goal than premium product quality in the healthcare industry" - Mr, Dinh Van Loc, President of Dong A shared in the day that Dong A Diamond Garlic Factory received Vietnam Record Certification.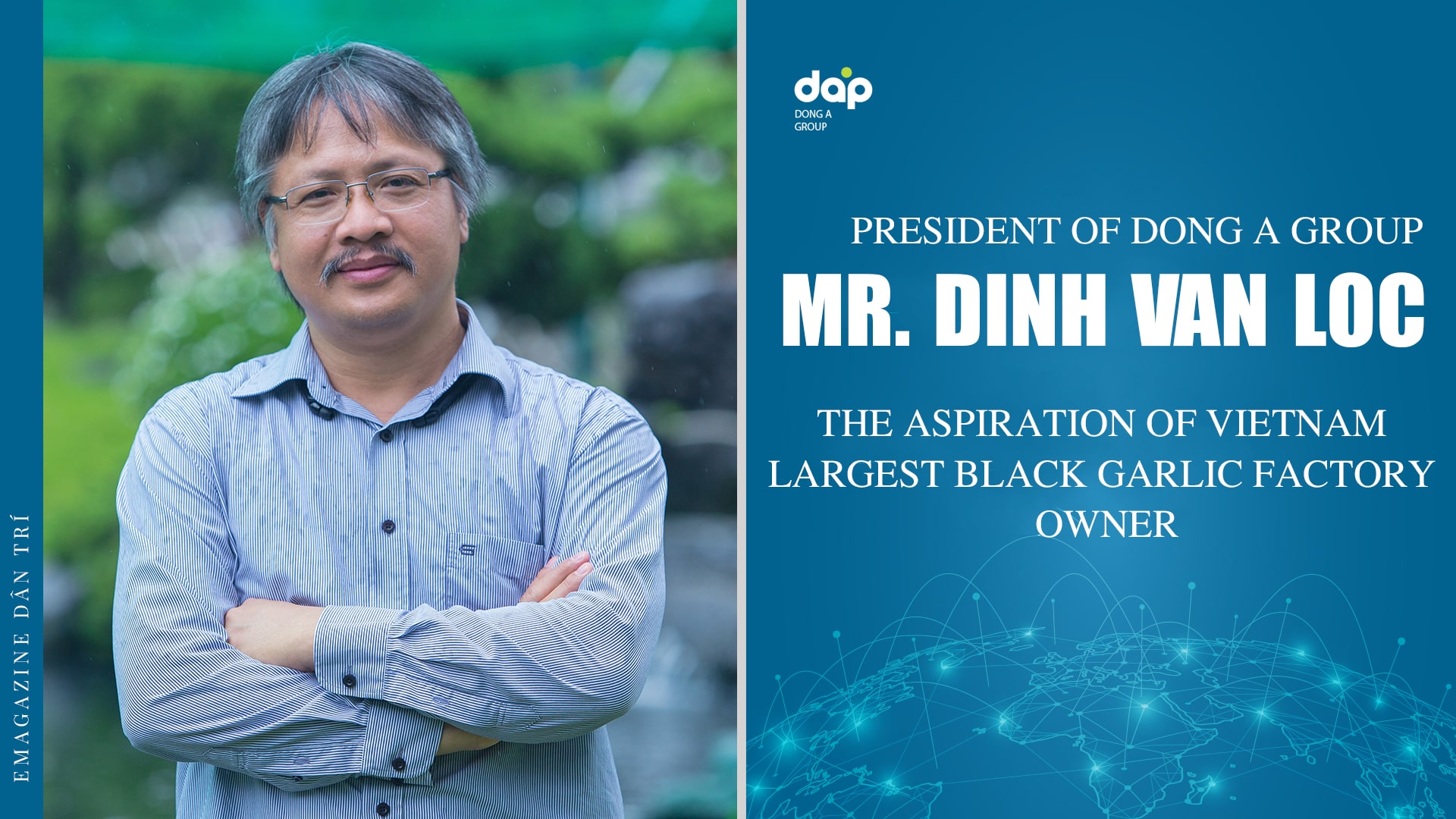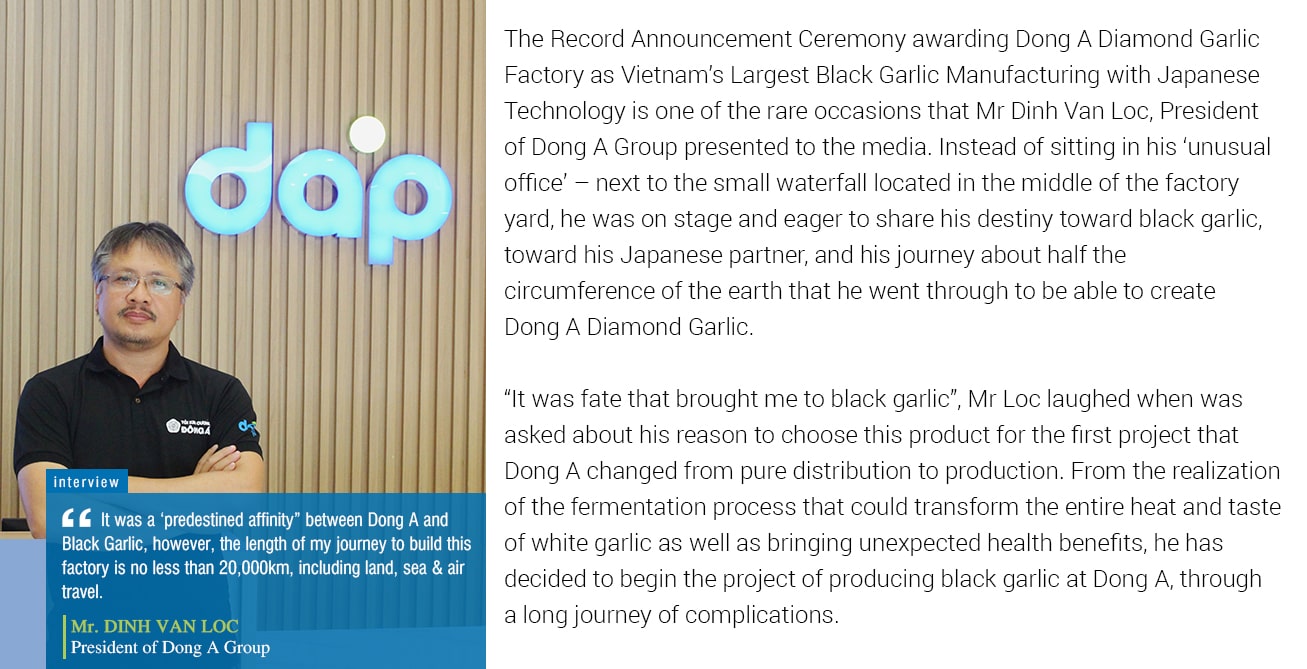 "To build this factory, I have pictured a factory model, including related technology, ingredient and brand materials. I have traveled to many places, visited a lot of factories, and met a lot of garlic experts. The total of my journey, including road, sea and air travel was probably no less than 20,000 km".
Fortunately, through a focal point in Vietnam, Dong A has approached Nagamine, a Japanese company specializing in black garlic production, however, the initial cooperation did not go well though we persisted to persuade via email and phone.
Not giving up, President of Dong A Group decided to invite Nagamine's boss to Vietnam. "I had the chance to share my desire to build a factory that create products that benefit patients, and how I thoroughly enjoy working with Japanese people. In the story at that time, we only talked about quality, and did not mention about the business profit. Perhaps because of that, he understood the wishes of Dong A Group and sympathized with us. Since then, everything was very favorable, the contract was signed very easily, even very cheaply."
After receiving the transfer, Dong A spent a year on experimental production in a small factory in Hanoi. The experimental production process is for us to test the bulk production model and verify the quality and efficiency of the product. Our result was a batch of products that has mild sweet taste, soft physique, as well as great health effect on users.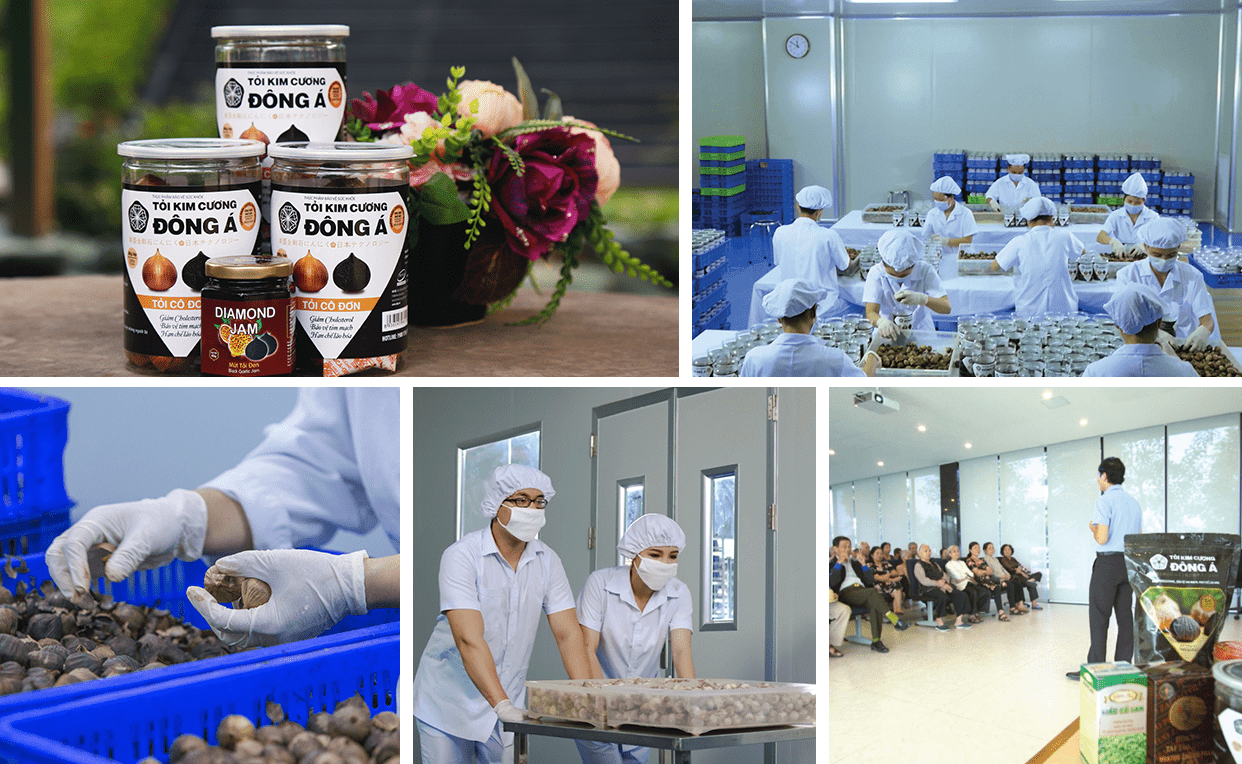 From this success, the company started to build a factory in Que Vo, Bac Ninh, with a capital of 120 billion dong on an area of 1.5 hectares, established in 2016. Dong A black garlic was named as Diamond Garlic, based on the similarity between the value and the process of creating black garlic and black diamond. With its strong black color – symbolize for longevity, toughness and solidity, pleasant taste and many health benefits, created through a strict process similar to the meticulous crafting of black diamond, the product contains the essence of 5000-year-history of precious food and the world's leading technology for human health.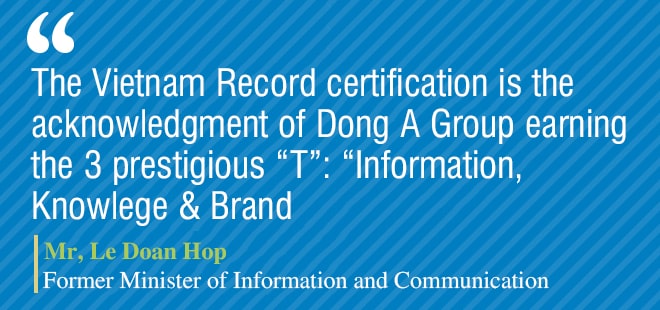 During the construction of the factory in Bac Ninh, the owner of Dong A Group deeply felt the enthusiasm of Japanese experts when implementing technology transfer. The nearly 50-year-old man feels quite strange, as "I think they are so good to me". The answer of this Japanese man at that time made him feels overwhelmingly surprised.
"They did not answer that question directly, instead they told us that they have summarized three types of people during their encounter with a lot of partners wanting to transfer their technology: Type 1 sees this as a profitable product, so do it regardless, for money; Type 2 recognizes this as a new topic that could take advantage of the Government's support capital with pioneering projects; Type 3 is someone who perceives business opportunity but focuses on quality. Summarizing these 3 types of people, they only see a third group surviving and developing for a long time. That is how I understand their value.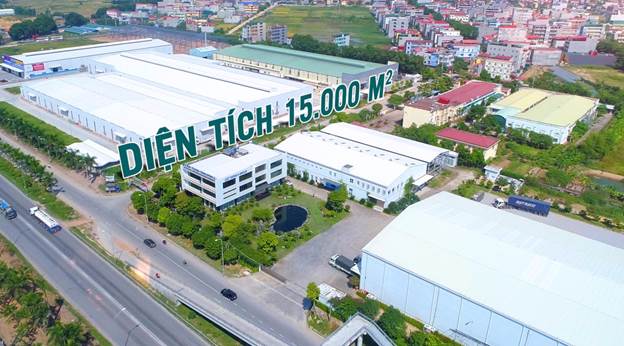 I am a person who tends to hide more than present, do more than talk, because I understand that I am doing a career related to human health, so I cannot set any goals higher than product quality".
Dong A ceaseless efforts over the past four years have not been in vain. Not only the company's products have been known in the market for their outstanding quality, but even the thought of going, "if not in the top 2, do not do" also affirms the company's commitment to this project. As a result, on August 6, 2020, Vietnam Record Association awarded the Vietnam Record to Dong A Diamond Garlic Factory - Vietnam's largest Black Garlic Factory with Japanese technology.
On behalf of the Vietnam Record Association, former Minister of Information and Communications, Chairman of the Council for Establishing the Vietnam Record Organization, Mr. Le Doan Hop stated that with this certification, Dong A Group in general and Diamond Garlic East Asia in particular was noted with all 3 T's.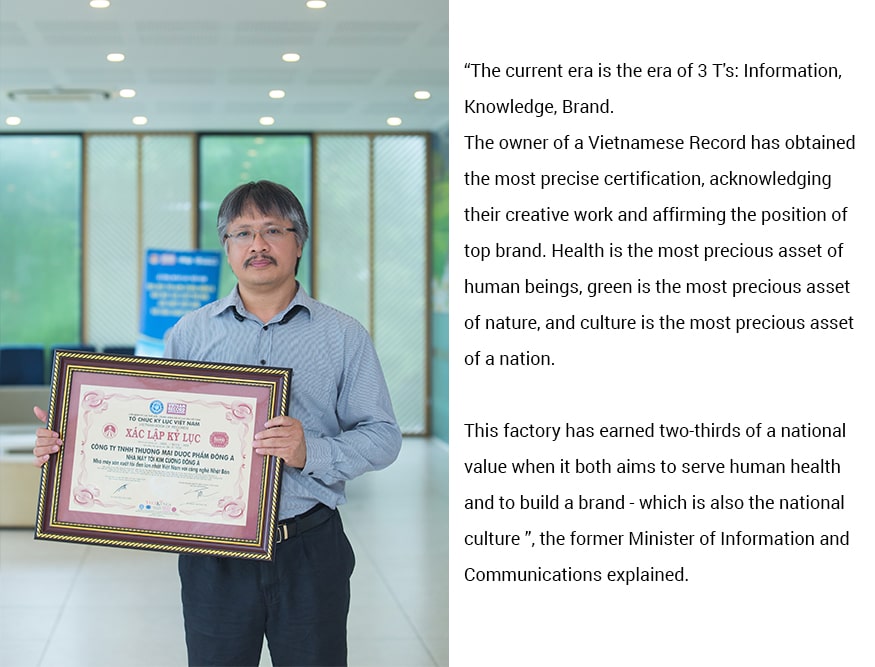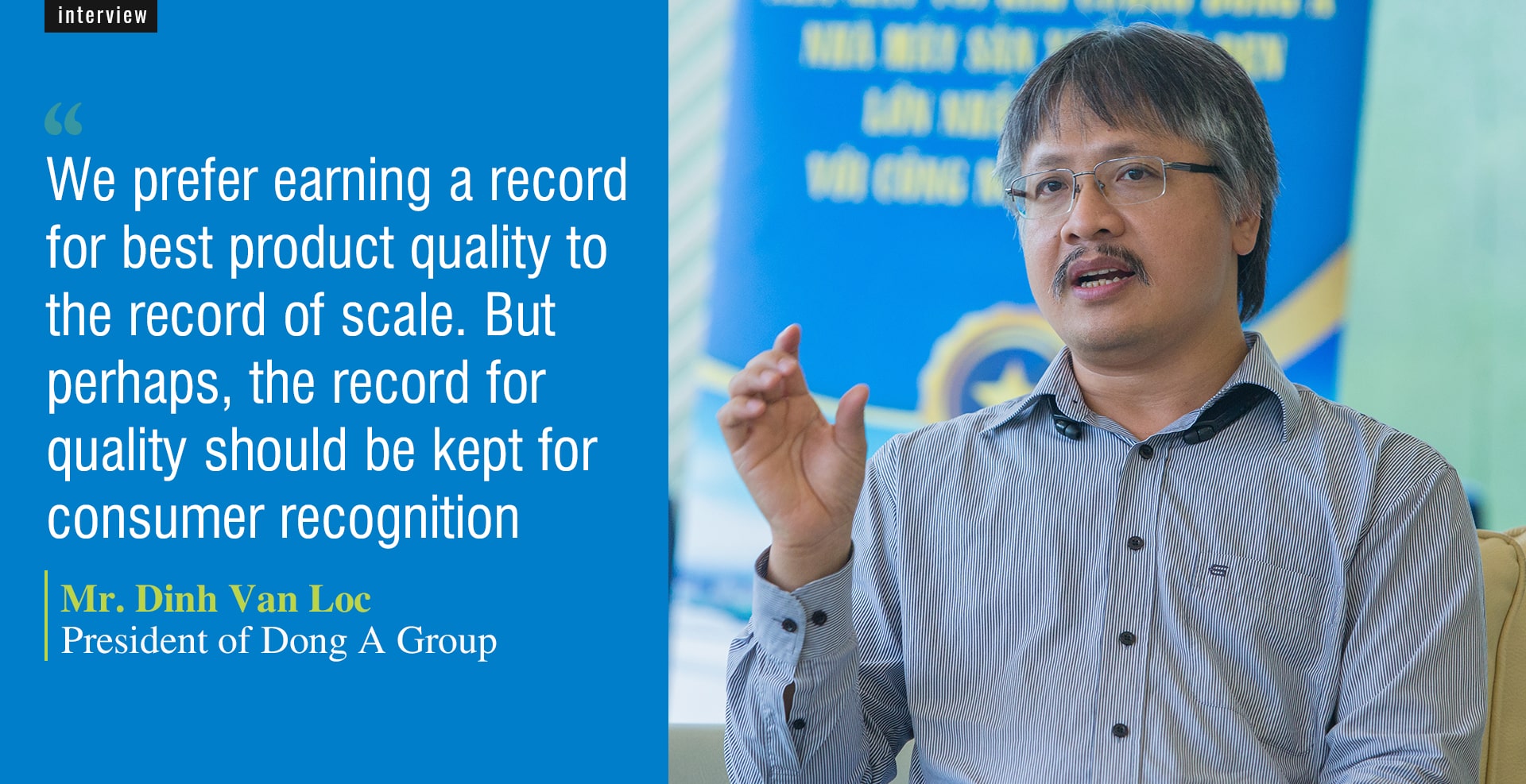 Sharing his joy in the day of receiving the certificate, Mr Dinh Van Loc said that today's record is just the beginning of a new long-term journey. "Garlic has a history of 5,000 years, but black garlic is only 15 years old. We expect there will be an opportunity to create such a permanent product which is also the company long-term investment commitment ".
Currently, in addition to garlic, Dong A has had initial successful steps to create a diverse range of black garlic reference preparations, keeping the orginal nutritional and antioxidant value, as well as many other biological effects of medicinal herbs.
In fact, after 4 years, the head of Dong A frankly admits that the project has not met his initial expectations of scale, capacity and product innovation. Apart from subjective reasons, depending on management's judgment, he also pointed out that other objective factors regarding users, market, difficulties due to counterfeiting, making Diamond Garlic inaccessible to mass customers.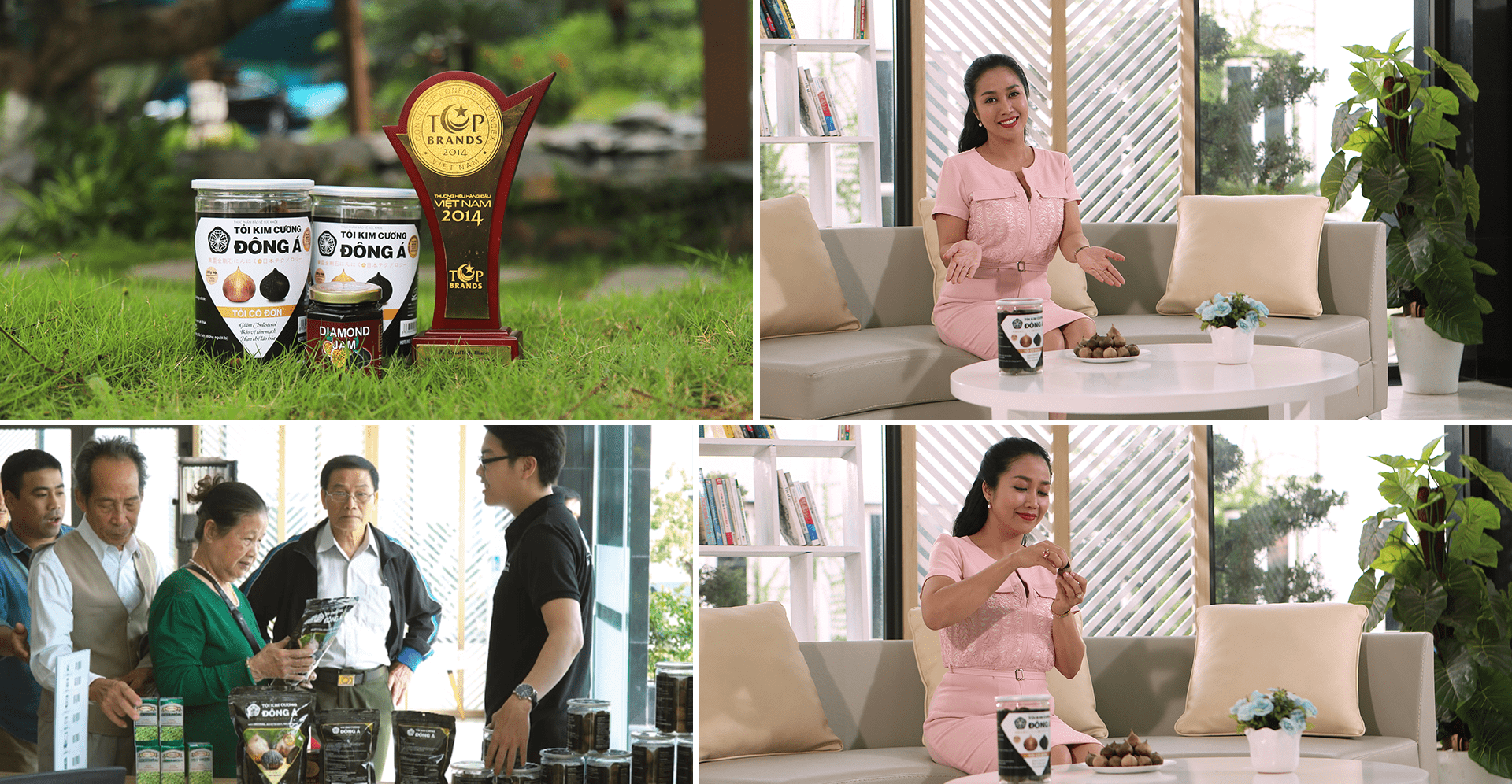 "We prefer earning a record for best product quality to the record of scale. But perhaps, the record for quality should be kept for consumer recognition. I have faith that consumers are really smart, and they will screen and choose the best quality. That is why I am very determined and committed to the project. Success comes from persistence, time and efforts of the collective, in order to build customer confidence and loyalty."